SORT BY ASSORTMENT
Most Littlest Pet Shop sets were released as part of a smaller group, or Assortment, within a larger Collection grouping (in the Zoo Collection, for instance, there are Assortments such as the Zoo Wilderness Pets, Zoo Nursery Pets, etc.) The Assortment classification of a particular set is usually indicated by a label in the lower-right corner of the set's packaging: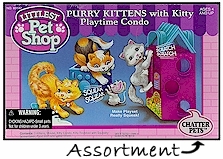 When navigating the Assortment menu on this site, all Assortments are listed alphabetically without respect to the Collections that they're in.
Just a few additional notes about this navigation menu:
All Assortments from the Zoo Collection are listed under Z, since "Zoo" appears in their names.

LPS Merchandise is included in this list and is labeled accordingly.