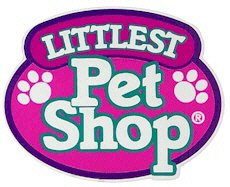 1995: JEWEL PETS
(Jewel Pets Collection)
What goes with every outfit you own and goes with you everywhere you go? LITTLEST PET SHOP Jewel Pets! They're beautiful little baubles with tiny pets that you can take out and play with, then put snugly back in their jewelry homes so they're with you and close to your heart all the time!
Kitty-Be-Mine Necklace
1995 / Jewel Pets Assortment / Jewel Pets Collection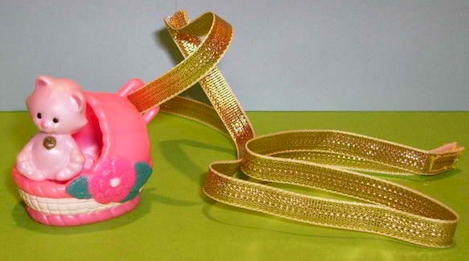 Pale pink bassinet variation is pictured second from the left.
Pet
Description
Accessories
Kitten
-Pale pink
-Sitting down & holding her two back paws with her two front paws
-Gold paw print on neck
-Bright pink bassinet (variation: pale pink bassinet) with white trim & pink flower
-Gold ribbon necklace
Image Credits:
Loose set photo - unicorn4484
Color variation - Leah
---
Puppy-Be-Mine Necklace
1995 / Jewel Pets Assortment / Jewel Pets Collection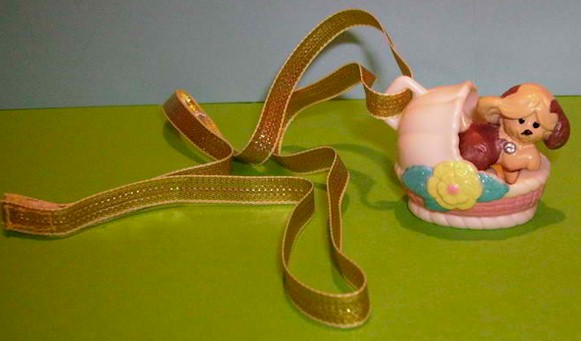 Pet
Description
Accessories
Puppy
-Brown & tan
-Standing with one paw up
-Silver paw print on neck
-Pale pink bassinet with pink trim & yellow flower
-Gold ribbon necklace
Image Credits:
Loose set photo - unicorn4484
Packaging photos - chambychick
---
Be-With-Me Bunny Necklace
1995 / Jewel Pets Assortment / Jewel Pets Collection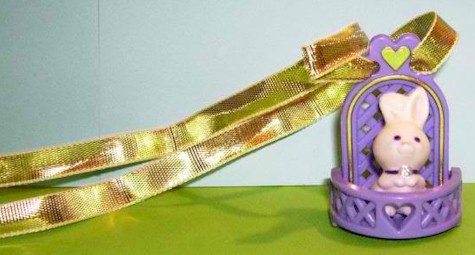 Pet
Description
Accessories
Baby Bunny
-Off-white bunny
-Standing up
-Dark purple collar with silver paw print
-Purple balcony with green trim and heart
-Gold ribbon necklace
Image Credits:
Loose set photo - unicorn4484
Frontcard - chambychick
---
Be-With-Me Birdie Necklace
1995 / Jewel Pets Assortment / Jewel Pets Collection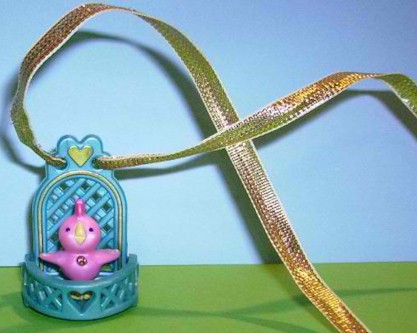 Pet
Description
Accessories
Baby Bird
-Pink baby bird with dark pink crest
-Perched with wings out
-Gold paw print on neck
-Aqua balcony with green trim and heart
-Gold ribbon necklace
Image Credits:
Loose set photo - unicorn4484
Frontcard - mouse
Backcard - Joey
---
Kitty Neck Charms
1995 / Jewel Pets Assortment / Jewel Pets Collection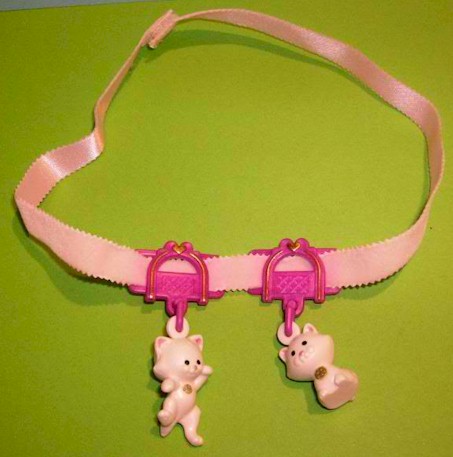 Pet
Description
Accessories
Kitten
(Sprawled Pose)
-White kitten
-Sprawled pose
-Gold paw print on neck
-Magenta hangers with gold trim and hearts
-Hangers attached to pale pink ribbon necklace
Kitten
(Sitting)
-White kitten
-Sitting
-Gold paw print on neck
Image Credits:
Loose set photo - unicorn4484
---
Puppy Neck Charms
1995 / Jewel Pets Assortment / Jewel Pets Collection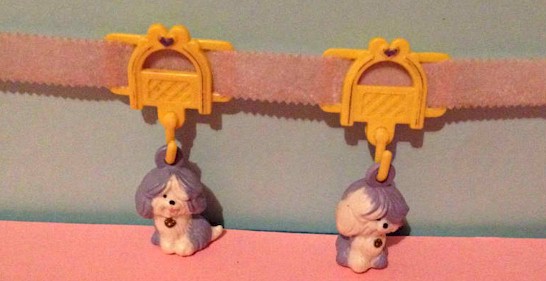 Pet
Description
Accessories
Puppy 1
-Lavender & white
-Sitting
-Silver paw print on neck
-Yellow hangers with purple trim and hearts
-Hangers attached to pale lavender ribbon necklace
Puppy 2
-Lavender & white
-Sitting
-Silver paw print on neck
Image Credits:
Frontcard & loose set photos - unicorn4484
Backcard - Joey