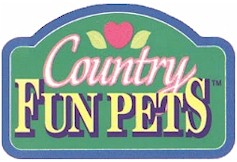 1995: MINI SURPRISE PETS
(Country Fun Pets Collection)
There's a whole world of wonderful surprises waiting for you inside each LITTLEST PET SHOP Mini Surprise Pets playset! Open them up and you'll find not just one, but four of the tiniest, littlest pets you've ever seen scampering about with magical actions that you make happen! These sweeties are so small, you can make all of them your pets and take them with you wherever you go!
Run 'n Fun Puppy Play Yard
1995 / Mini Surprise Pets Assortment / Country Fun Pets Collection

Pet
Description
Action
Dog
(Yellow)
-Yellow dog
-Standing
-Aqua collar & paw print
-When the outside wheel is turned, the bottom of the washtub goes up and down and a patch of grass rotates; dog can sit on either
-Dog can "dig" bone out of grass
Dog
(Black & White)
-Black and white terrier dog
-Sitting up with front paws in the air
-Light pink collar with light pink paw print
-When the outside wheel is turned, the bottom of the washtub goes up and down and a patch of grass rotates; dog can sit on either
-Dog can "dig" bone out of grass
Dog
(Tan)
-Tan with light gray highlights
-Crouching
-Pink collar with pink paw print
-When the outside wheel is turned, the bottom of the washtub goes up and down and a patch of grass rotates; dog can sit on either
-Dog can "dig" bone out of grass
Dog
(Brown & White)
-Brown with white belly & muzzle
-Sitting
-Magenta collar with magenta paw print
-When the outside wheel is turned, the bottom of the washtub goes up and down and a patch of grass rotates; dog can sit on either
-Dog can "dig" bone out of grass

Accessories
-Purple carrier with teal door, teal wheel/gear outside, and tiny play area inside:
-Aqua grass
-Pink doghouse
-Blue wash tub
-Bone covered with movable piece of lawn
-Tree and rose trellis molded on inside wall of carrier
---
Sweet Swimmy Fish Friends
1995 / Mini Surprise Pets Assortment / Country Fun Pets Collection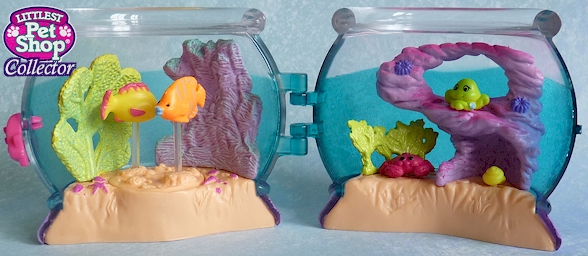 Pet
Description
Action
Octopus
-Lime green and bright yellow
-Pale blue paw print on one leg
-When placed on the peg on the large purple coral, it scurries left and right as the snail is pushed horizontally
Crab
-Red
-Silver paw print on back
-When placed on the peg on the large purple coral, it scurries left and right as the snail is pushed horizontally
Fish
(Yellow & Pink)
-Bright yellow and pink fish
-Attached to acrylic rod
-Pink paw print on back
-When the outside wheel is turned, the two fish (resting on clear plastic rods) "swim" in circles
Fish
(Orange)
-Bright orange fish
-Attached to acrylic rod
-Silver paw print on back
-When the outside wheel is turned, the two fish (resting on clear plastic rods) "swim" in circles
Snail
-Yellow
-Attached to platform
-If the crab or octopus is placed on the peg on the large purple coral, it scurries left and right as the snail is pushed horizontally

Accessories
-Fishbowl with wheel/gear outside and tiny play area inside:
-Tan sandy base with pink starfish & clams
-Purple & green coral
---
Perky, Playful Kitty Cats
1995 / Mini Surprise Pets Assortment / Country Fun Pets Collection

Pet
Description
Action
Cat
(Brown & Beige)
-Light brown and beige Siamese
-Standing
-Aqua collar with aqua paw print
-When a cat is placed on the peg next to the stone pile and the outside wheel is turned, the cat "chases" the mouse in and out of the stones
-Cats can sit on tree branch
Cat
(Dusty Lavender)
-Dusty lavender
-Sitting
-Purple collar with purple paw print
-When a cat is placed on the peg next to the stone pile and the outside wheel is turned, the cat "chases" the mouse in and out of the stones
-Cats can sit on tree branch
Cat
(Yellow)
-Yellow
-Sitting with one paw in the air
-Lavender collar with lavender paw print
-When a cat is placed on the peg next to the stone pile and the outside wheel is turned, the cat "chases" the mouse in and out of the stones
-Cats can sit on tree branch
Cat
(Black & White)
-Black & white
-Sitting on hind legs with front paws up
-Magenta collar with magenta paw print
-When a cat is placed on the peg next to the stone pile and the outside wheel is turned, the cat "chases" the mouse in and out of the stones
-Cats can sit on tree branch

Accessories
-Dark pink carrier with wheel/gear on outside and tiny play area inside:
-Light green grassy base
-Blue stone pile
-Tiny covered cat house
-Tree and vines molded onto inside wall of carrier
---
Hop 'n Go Bunnies with Garden Hutch
1995 / Mini Surprise Pets Assortment / Country Fun Pets Collection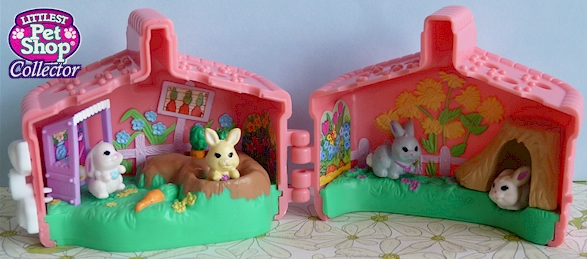 Packaging
(Click thumbnails to enlarge)

Frontcard
(bottom section of card is missing)

Backcard
(bottom section of card is missing)
Pet
Description
Action
Bunny
(White - Crouching)
-White
-Crouching down
-Yellow collar with yellow paw print
-When a bunny is placed in the hutch and the wheel is turned, she moves toward the carrots
-Bunny placed in burrow pops up and down when wheel is turned
Bunny
(Yellow)
-Yellow with white belly
-Sitting on hind legs; paws in air
-Purple collar with purple pawprint
-When a bunny is placed in the hutch and the wheel is turned, she moves toward the carrots
-Bunny placed in burrow pops up and down when wheel is turned
Bunny
(Gray)
-Gray with white tail
-Standing on all fours
-Pink collar with pink paw print
-When a bunny is placed in the hutch and the wheel is turned, she moves toward the carrots
-Bunny placed in burrow pops up and down when wheel is turned
Bunny
(White - Sitting-Up)
-White
-Sitting up on hind legs; front paws up
-Teal collar with teal paw print
-When a bunny is placed in the hutch and the wheel is turned, she moves toward the carrots
-Bunny placed in burrow pops up and down when wheel is turned

Accessories
-Light pink carrier with wheel/gear on outside and tiny play area inside:
-Bright green grassy base
-Purple hutch
-Brown burrow
-Carrots