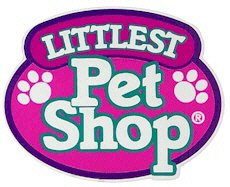 1995: DRESSED 'N READY PETS
(Pet Shop Collection)
There's nothing so fun as playing dress-up! All the LITTLEST PET SHOP Dressed'N Ready Pets are specially dressed up and ready for whatever comes their way, from a dance recital...to a day chasing raindrops...to a wilderness fishing trip. Come along on all their exciting adventures!
Assortment Packaging
(Click thumbnails to enlarge)

Dressed 'n Ready Pets shipping box
(
Many thanks to mouse for the shipping box photo!)
Kitty Goes Camping
1995 / Dressed'N Ready Pets Assortment / Pet Shop Collection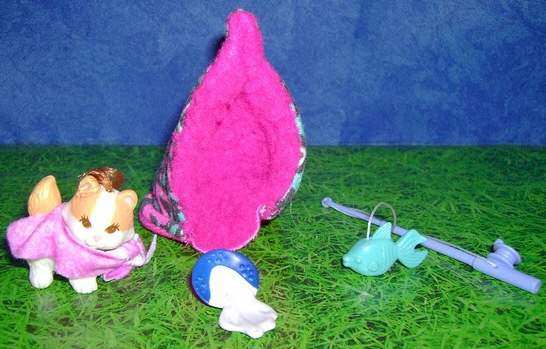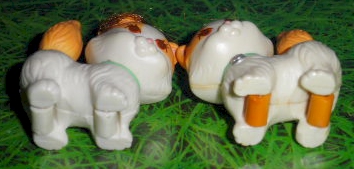 Color variation of rollers.
Pet
Description
Action
Cat (Mold C5)
-White with brown highlights and brown tuft of hair on head
-Two white (variation: brown) rollers on underside
-Light green collar with silver paw print
"Chases" after fish
Accessories
-Fuzzy bright pink teepee with teal, black, and pink geometric patterns on outside
-Dark blue dish of spilled milk
-Blue fish on purple fishing pole
-Pink bandana
Image Credits:
Loose set photo & variation photo - Caro
Backcard - mouse
Frontcard - Joey
---
Tutu Fun Kitty
1995 / Dressed'N Ready Pets Assortment / Pet Shop Collection
Pet
Description
Action
Cat (Mold C6)
-Gray with fluffy tail and white highlights
-Crouching
-Light pink collar with silver paw print
Bows head when tail is pressed on
Accessories
-Green grassy base
-Beige gazebo with roses (attaches to base)
-Glittery pink tutu
-Gold crown with red jewel
-Transparent red cup of gold food
Image Credits:
Loose set photo - Caro
---
Let It Pour Pup
1995 / Dressed'N Ready Pets Assortment / Pet Shop Collection

Pet
Description
Action
Dog
-White and brown
-Sitting
-Red collar with silver paw print
The mud on the puppy's feet disappears in warm water
Accessories
-Blue wagon with gray handle and wheels
-Yellow sponge-brush
-Orange food/water dish with light brown food (hollow)
-Yellow hooded raincoat
-Bright green bucket
Image Credits:
Frontcard - mouse
---
Sweet Sleepy Puppy
1995 / Dressed'N Ready Pets Assortment / Pet Shop Collection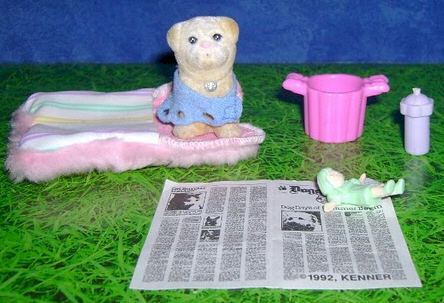 Pet
Description
Action
Dog
-Beige dog with gold highlights
-Fuzzy & wrinkly
-Blue green collar with silver paw print
When you fill the bottle with water and "feed" the puppy, he wets

Accessories
-Pink bone-shaped sleeping bag with purple/teal/yellow/blue/pink stripes on the outside
-Teal doll
-Lavender bottle
-Pink bucket
-Two newspapers
Image Credits:
Loose set photo - Caro
---
Take Care Pup
1995 / Dressed'N Ready Pets Assortment / Pet Shop Collection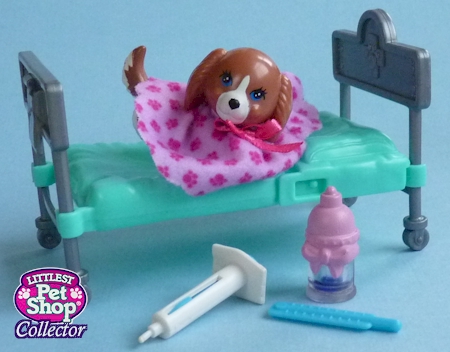 Pet
Description
Action
Dog
-Brown and white
-Crouching
-Lavender collar with silver pawprint
-He "drinks" out of bottle (liquid disappears when flipped over)

Accessories
-Teal bed and adjustable pillow with silver frame
-White syringe with blue pusher
-Blue thermometer
-Transparent bottle with pink top
-Light pink pull-over hospital gown with bright pink pawprints all over it
Image Credits:
Frontcard - mouse
Backcard - Joey